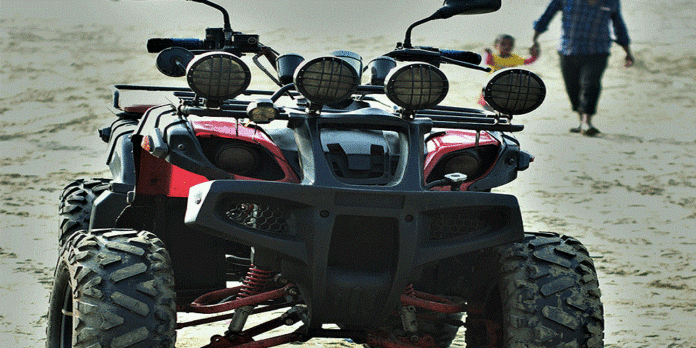 What's an All-Terrain Vehicle?
The all-terrain vehicle, which is also known as ATV, light utility vehicle, quad bikes, and cuatrimotos (in Spanish), is a four-wheeled automotive. This vehicle is designed for off-road and rocky road adventures and applications.
To safely handle them on rough roads, these vehicles are equipped with low-pressure tires, user-managed seats, and handlebars. Due to their unique design, these automobiles are being used in multiple applications, both for commercial and recreational activities.
Due to the durable nature of these automobiles, there are many places where nothing can be used but the ATV. However, due to safety risks associated with ATVs, special licenses and rules are issued to operate these motorbikes in Canada, the US, and the UK.
Applications of ATVs
Due to the sturdy nature of ATVs, they can be used for multiple applications like;
At construction and manufacturing sites
Mountain hunting and field working
To transport the loads
Snowplowing
Common Utility Errands
Recreational activities like desert or rough road racing
Hauling and mining
Difficult rescue and search operations
If you are looking for a quad bike, ensure to pick only the reliable manufacturers that are providing the standard products in the market.
Where to Buy?
Looking for a reliable ATV selling site? Visit Alibaba.com for all the latest ATVs of well-known brands. This site will provide you with various options of ATVs, from simple to advanced, large to small, and cheap to expensive ones.
At Alibaba, you'll get all the products of top manufacturers of China that are supplying their products all over the globe. Check the site for more inquiries and information.
Factors to Consider
Choosing the most appropriate option out of so many is a bit challenging. So, here are a few factors that will help you make a better perfect in just a few minutes.
1. Types of ATV
ATVs have various different types used in multiple applications. The most common types are youth, sports, utility, and recreation ATVs. All of these types differ in their construction, durability, design, power, price, and capabilities. So, make sure to choose the particular type based on your requirements.
2. Engine Power/Size
The engine size of ATV varies in all of its types, from 50cc to up to 1000cc. The cc is the unit of an engine size which is called cubic capacity. ATV with higher cc has more speed, capacity, and fuel consumption of ATV.
All the types of ATVs are available in different engine sizes. You can choose the engine size based on your requirement and applications.
3. Ground Clearance
Ground clearance is the distance between the ground and the bottom of the vehicle. This feature is important in ATVs as these vehicles are destined to use on bumpy and rocky surfaces.
So, while choosing the automotive, ensure to select the higher ground clearance so you can use them anywhere without the fear of damage. However, more distance from a particular range enhances the chances of vehicle rolling and collisions.
4. Cost
Based on the size, power, and features of ATVs, these vehicles are available from $400 to $3000. So, before choosing the vehicle ensures to determine your budget and buy accordingly.
5. Safety Gear
Safety is one of the biggest concerns in the use of ATVs. These vehicles need special licenses to ride on. Other than riding practice, ATV vehicles come up with some safety gear like the helmet and goggles that to ensure the rider's safety.
Conclusion
While buying the ATVs, the increase in price also maximizes the availability of the feature. For the simple field or commercial applications, functional and durable vehicles are enough, but for recreational riding, some esthetically appealing features enhance the fun.
Regardless of the aesthetics, quality should be your first preference. And you'll get the quality on a reasonable budget only on Alibaba. So, go online and check the complete range of ATVs there.